About Bob Hayward
Fifty words to describe Bob
Alpha, Bob Dylan, Business Development, Cats, Change, Charity, Chess, Christian, Commitment, Communication, Cricket, Curry, Dogs, Enthusiasm, Engagement, Ethical, Ferrari, Foodbank, Four Children, Friends, HV71, Implementation, Julie, Lands End to John O'Groats, Lifetime Learning, Lord of the Rings, Marathons, Monty Python, Networking, Ramblers, Real Ale, Spurs, Sweet White Wine, Swindon, Winston Churchill.
OK he cheated that is 51..!
Bob's Background
Bob Hayward, a Christian and father of four is Managing Director of Be More Effective Ltd an internal communication / employee engagement consultancy and management training company.
He has designed and delivered a number of mission critical internal communication and employee engagement projects for companies like Vodafone, Peugeot, Husqvarna, Somerfield and SEB a Global Bank and has run many skill development programmes, including a Sales Training Programme for all 1500 BMW UK Dealer Sales People. Bob is a highly experienced consultant, facilitator and speaker, specialising in employee engagement, productivity and sales. His style, heavily influenced by the work of Eric Jensen, Dale Carnegie and Bengt-Arne Svennberg, is highly energetic and passionate which tends to generate enthusiasm, commitment and ownership amongst the participants on his courses and the audiences he speaks too. Feedback on his work is high in both levels of delegate satisfaction and of tangible impacts on business results.
He has had quite a journey from humble beginnings near Broadwater Farm in Tottenham (yes he is a Spurs fan) failing his A levels and even the entrance exam for a Postman. But a bad motor bike accident changed the course of his life forever. The six week stay in hospital and the one year on crutches it took to recover led him to become a nurse. First a Registered General Nurse, then a spell in Intensive Care before taking a second degree course in Psychiatric Nursing. After a 12 year career in nursing he took up selling and built a nursing agency from scratch to a £5.6 million turnover in five years. In his business career Bob has started four businesses from scratch and built each of them to £1M turnover or more, he has a raft of practical knowledge and experience that make him a natural and informative speaker with a complete understanding of the needs of employees and problems facing business owners and managers. In 1992 he become an instructor for the famed Dale Carnegie Training he learned the art of inspiring individuals to achieve much more than they could imagine. He ran programmes in areas such as leadership, management, presentation skills, team and personal development. By 1997 he had started his own Consultancy and has hardly stopped still since…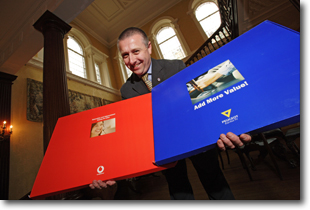 Bob actually hit the national headlines in 2001, but not for his business or consultancy skills, this was when he ran 33 marathons in only 40 days to get from Land's End to John O'Groats in aid of a burns victim called 'Podge'. He continues to raise money for charities close to his heart through marathon running and completed a further major test of endurance in October 2005 by running 6 marathons over 6 days across one of the hottest places in the world ~ Death Valley ~ this time in aid of Swindon Foodbank (hyper-link) tackling issues of poverty and deprivation. In January 2009 he ran 150km around Fuerteventura in 5 days as part of his drive to raise awareness to poverty in the UK and continues to do crazy things to raise funds to fight it.
What value could Bob add to your business and life?
Contact Bob now...